中秋花好月圓佛教弘法文藝晚會
The Blissful Mid-autumn Festival Celebration Banquet
(本山訊)
Mahavira News:
2022年9月10日,農曆八月十五,印尼佛教大廈大叢山西禪寺舉行中秋文藝弘法晚宴。是晚超過600多名佛教徒參加晚會。
On September 10, 2022, the 15th day of the 8th lunar month, the celebration of the Mid-autumn banquet was held at Wihara Mahavira Graha Buddhist Building Indonesia.
More than 600 Buddhists attended the banquet.
本山青少年學佛會鳴24節令鼓揭開晚宴。本山住持及僧伽帶領四眾齋主供佛燃燈拈香諷誦經咒,恭祝中秋花好月圓諷誦祈禱文。
The "24-season" drums played by the Youth Group start the banquet.
The Venerable abbot and the Sangha led all the devotees to make offerings to the Lord Buddha, lighting lamps and incense, and chanting mantras.
本山住持,印尼佛教中心協會總會長致歡迎詞,談到大乘佛教,藥師佛兩邊輔助菩薩日光、月光在中秋祈福會上對月光菩薩讚嘆效仿悲願宏深、救度一切眾生脫離苦海,淨化心靈,得大解脫。
The president of the Indonesian Buddhist Center Association cum Abbot Most Venerable Hui Xiong delivered a welcome speech, in his speech, he talked about Mahayana Buddhism, the two great Bodhisattva, Sūryaprabha (Sunlight) and Candraprabha (Moonlight) Bodhisattva, who are auxiliary on both sides of the Bhaisajyaguru (Medicine) Buddha.
At the Mid-autumn Festival, the Venerable abbot praised the great Merits and compassion of Moonlight Bodhisattva. His great compassion and will to save all sentient beings from the sea of ​​suffering, purify the mind and body and obtain great liberation.
大會主賓,國會議員張育浩先生致詞時談到華人的佳節其中有新春及中秋最主要的節日,家庭大團圓,提倡孝道倫理道德。
同時,也呼籲印尼的華裔2024年國家進入大選,我們要做一個好社民,一定要參與選舉,選出一位為國家社會人民做出貢獻的領導人。華人社會尤其佛教界,我們要扮演最好的角色對國家做出最好的貢獻。
The Guest of Honour Mr. Zhang Yuhao, a member of Congress, said the most important festivals of Chinese are the Lunar New Year and Mid-Autumn Festival, which are the family reunion, and the promotion of filial piety, ethics, and morality.
At the same time, we also call on Indonesian Chinese to participate in the election in the year 2024. We must be good citizens, and we must participate in the election and elect a leader who will contribute to the country, society, and people.
Chinese society, especially the Buddhist community must play an important role and make a great contribution to the country.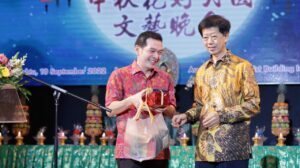 本山義工菩薩呈獻美味素食,多位首都藝人獻唱佛曲陪伴著享用品嚐美味的素食及月餅。
當晚,本山住持也帶領大眾一起獻唱佛曲,本會舞蹈班呈獻優美的舞姿,使整個中秋晚宴莊嚴無比,顯現出佛教文化氣氛弘揚菩薩的悲願。
The volunteers of the temple presented delicious vegetarian cuisines, many capital artists sang Buddhist songs, and everyone enjoy delicious vegetarian food and moon cakes.
The Venerable abbot also led the audience to sing Buddhist songs together.
The Buddhist dance troupe presented beautiful Buddhist dance, making the entire Mid-Autumn Festival dinner extremely solemn with the Buddhist cultural ambiance, to advocate the tremendous compassion of the Bodhisattva.