---
Buddhist Associations of New York Pu Zhao Temple celebrated 30th Anniversary.
---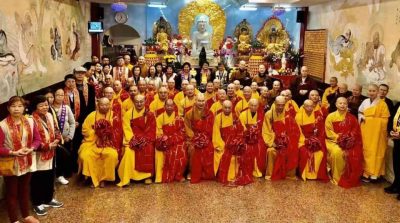 On 11th October 2019, Chief Vice President cum Secretary General, Abbot Venerable Hui Xiong was invited to preside over the celebration of 30th anniversary of Buddhist Association New York Pu Zhao Temple. Venerable Abbot arrived from Toronto Canada and accompanied by Venerable Hong Ding to pay visit to various Buddhist monasteries. In the morning he visited Most Venerable Xiu Jue Abbot of Pu Zhao Temple who had not seen each other for many years. Everyone was invited to the main hall to rest on the second floor. In the morning, the deputy secretary-general of the Chinese Buddhist Association Venerable Pu Zhen,the abbot of the Taiwan Xin Miao Fa Temple in Seattle Venerable Xin Tian, the Abbot of Kai Feng Da Xiang Guo Temple Henan province China Venerable Xin Guang, Venerable Po Rue from Australia, Venerable Hong Zheng from Los Angeles USA, Venerable Chao Chu, Venerable Chan Yi and the high monks of the various monasteries in New York attended the commemorative ribbon-cutting ceremony. The abbot Most Venerable Xiu Jue's remarks unveiled to celebration ceremony. In the older days, Venerable Xiu Jue immigrated to United States in the 1970s, to restore and reconstruct the Linyang Temple in Fuzhou. At that time,Venerable Xiu Jue followed his master to work in New York. Because there were very few new immigrant devotees to support and contribute, until 1980s he rented a place to establish and construct Pu Zhao Temple.
Due to the hardship and overwork,his master was eventually sick and pass away in China.
When talking about the past and the hardship of survive and thought life in the foreign country for his master, Venerable Xiu Jue still feel pain and shed tears for a moment.
The Chief Vice President cum Hon Secretary General Venerable Hui Xiong in his speech talked about, he known Venerable Xiu Jue and his master since 1980s and in Nanyang, everybody know Venerable Xiu Jue and his master Most Venerable Guang Xian for their great effort in repairing the ancestral temple in Fuzhou China. Everyone praised the great contribution made by Most Venerable Guang Xian both in Pu Zhao Temple in New York and China. It is hoped that the new generation of the immigrants who are promoting the Buddha-Dharma must adhere to the essence of the Dharma that is establish a unite and harmony Sangha community. Only unity can make Buddhism prosperous and blossom. After the speech of all the high monks, all
the guests was invited to hold the commemorative assembly and ribbon cutting ceremony and taking group photos. Thereafter the ceremony, all distinguished guests was invited for vegetarian lunch.

[/fusion_builder_column]